Join us in Austin
in October!

Online Registration Closed.
See Registration Desk.
Welcome to Austin!
"Be yourself in Austin. And celebrate all that makes you, well, you. Honor your heritage, embrace your uniqueness. Or weirdness*. You'll fit right in. Austin is made up of a diverse blend of cultures and lifestyles, and has a reputation for being an open, accepting city. The influences of minority communities can be felt in everything from our music and dining to architecture and art."
---
Registration Information
Online Registration is the preferred method. Note: Early Bird Registration Over.
Online Registration
Registration by Mail

If you are paying by:

Credit card -- Select "Credit Card" as the payment method and complete the required form fields. Note: The billing address fields might be prepopulated with the address you provided on the Personal Information page, but if you are using a credit card with a different billing address, you will be able to change that information later. When all required fields have been filled, click on "Finish My Registration" to process the payment and view the confirmation page.
Check -- Select "Check" as the payment method and click on "Finish My Registration". You will be taken to the confirmation page where you may print the invoice to send in with your check.
Purchase Order -- Select "Purchase Order" as the payment method and enter the PO number,if available,in the form field. Then click on "Finish My Registration". You will be taken to the confirmation page where you may print the invoice for your records.

You may pay by completing a printed form and submitting your payment (Check or Money Order) by mail.

Printable Registration Form (pdf)

Note: Pricing information can be found on this printable form.
Refund Information
All refunds must be processed manually by annual meeting staff.
If you ...

Then we will ...

Cancel or change your registration through September 17, 2010
Refund all registration and special event fees, less a $30.00 processing fee
Cancel or change your registration after September 17, 2010

Transfer registration to designated substitute person; no refunds available

Receive notice of a returned check

Assess a $35.00 returned check fee
Receive notice that a CE class(es) was canceled for
not meeting the minimum attendance requirement
Register you for an alternate CE class(es) of your choosing, or

Refund fees for the canceled class(es), less a $15 processing fee
If you pay your meeting registration fees (by any payment method) and then later make changes that result in your new balance being less than the original amount you paid, the difference will be subject to the refund policy.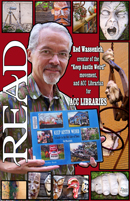 * Keep Austin Weird
"Keep Austin Weird" is more a state of mind than a statement. The slogan is the brainchild of one of our own, Red Wassenich, and his wife, Karen Pavelka. Since it's inception in 2000, Austin folks have been bandying about the phrase freely and loosely. And, according to Wikipedia, other communities have jumped on the bandwagon. Join Red and Julie Todaro, Dean of Library Services, Austin Community College,during the Welcome session.
Read more about "Keep Austin Weird: Who, When, Why" in Red's book:
Wassenich, Red, and Karen Pavelka. 2007. Keep Austin weird: a guide to the odd side of town. Atglen, PA: Schiffer Pub. Ltd. (ISBN 0764326392)